XIII April international Academic Conference on
Economic and Social Development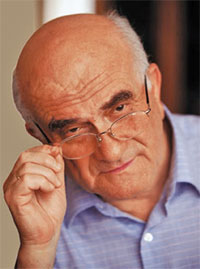 Dear Colleagues!
On April 3-5, 2012 the XIII HSE April International Academic Conference on Economic and Social Development will be hosted by the National Research University – High School of Economics with support of the World Bank and International Monetary Fund. Its main feature is that annually on the Conference venues a dialog takes place between theoreticians and practitioners, government officials, business and science, between the Russian and foreign experts. A participation in the conference of the senior Russian Government officials including representatives of the Presidential Administration, high-level representatives of the World Bank, the International Monetary Fund, the Organization for Economic Cooperation and Development, and the CEOs of several largest Russian and international companies has become a tradition.
The conference program traditionally includes sections for macroeconomics, theoretical economics, banking and finance, demography and labor markets, and sociology. There is a new section for economics and law. It deals with the development of one of the two special issues. The first issue is more political and linked with the results of the work of experts on the "Strategy 2020"; the second issue is interdisciplinary and connected with the phenomenon of trust, it brings together economists, lawyers, sociologists, political scientists, who should analyze how the interaction of economics and law produce (or does not produce ) trust.
Among the conference key events there is a honorary lecture of the Nobel Laureate Professor Kenneth Arrow about the role of information and belief in economy. I also would like to note the honorary lecture of Jacques-François Thisse, Professor of economics at the Université catholique de Louvain (Belgium), the head of the HSE Laboratory of the theory of markets and spatial economics.
And finally, one of the highlights conference event will be the paper of Nobel Laureate Professor Douglass North and his colleagues, which propose an approach to the development of 'limited access orders', to which Russia belongs as well.
We expect that this XIII April Conference will demonstrate the new achievements of the Russian scientists and continuing process of their integration into the international scientific community.
Program committee chairman Evgeny Yasin.